28th Annual Spring Golf Fundraiser


(Rescheduled for May 19th)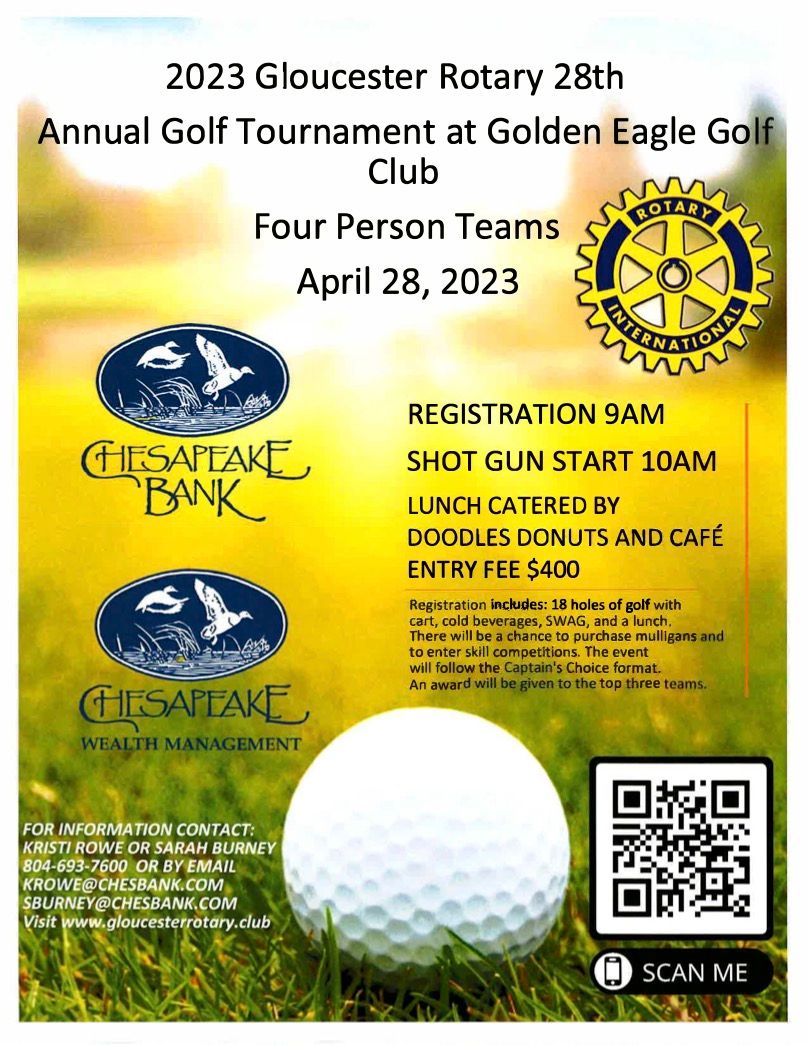 On May 19, at 10 AM, the Gloucester Rotary will be hosting its 28th Annual Spring Golf Fundraiser at Golden Eagle Golf Club!

The entry fee for a four-person team play is $400. Registration includes: 18 holes of golf with cart, beverages, swag, and lunch. Sponsors also receive additional perks and benefits.

Learn more via our upcoming events page, and sign up to play here or via the QR code.

To sponsor please complete this form.

Please note: Due to inclement weather, this event (originally scheduled for April 28) has been rescheduled for May 19th.
What is the Gloucester Rotary Club?
Chartered in 1962, the Gloucester Rotary Club supports the individuals, organizations, and businesses of Gloucester, Virginia through services, grant-making, and advancing community.
The Gloucester Rotary believes strongly in the

Rotary's

motto "Service Above Self" and is proud to be a part of the 1.4 million global network of Rotarians creating lasting change at every level of society.

The Gloucester Rotary meets on the 2nd Thursday of the month at

PEMS

 at 5:30 PM and hosts breakfasts on the 4th Thursday of each month at Olivia's in the Village. We invite you to join us, and are always looking for new members who are excited to strengthen and improve their community!
Application for Service Project Support
Community service is a key component of the Gloucester Rotary. We are currently accepting Community Service Project Applications on a rolling basis. Service projects needing labor and/or financial support will be considered, and proposed projects should benefit the Gloucester County Community.

CLICK HERE to download the Community Service Project Application and follow the instructions on the form.
Remembering Fellow Rotarian H. Herbert "Herb" Stanley Jr.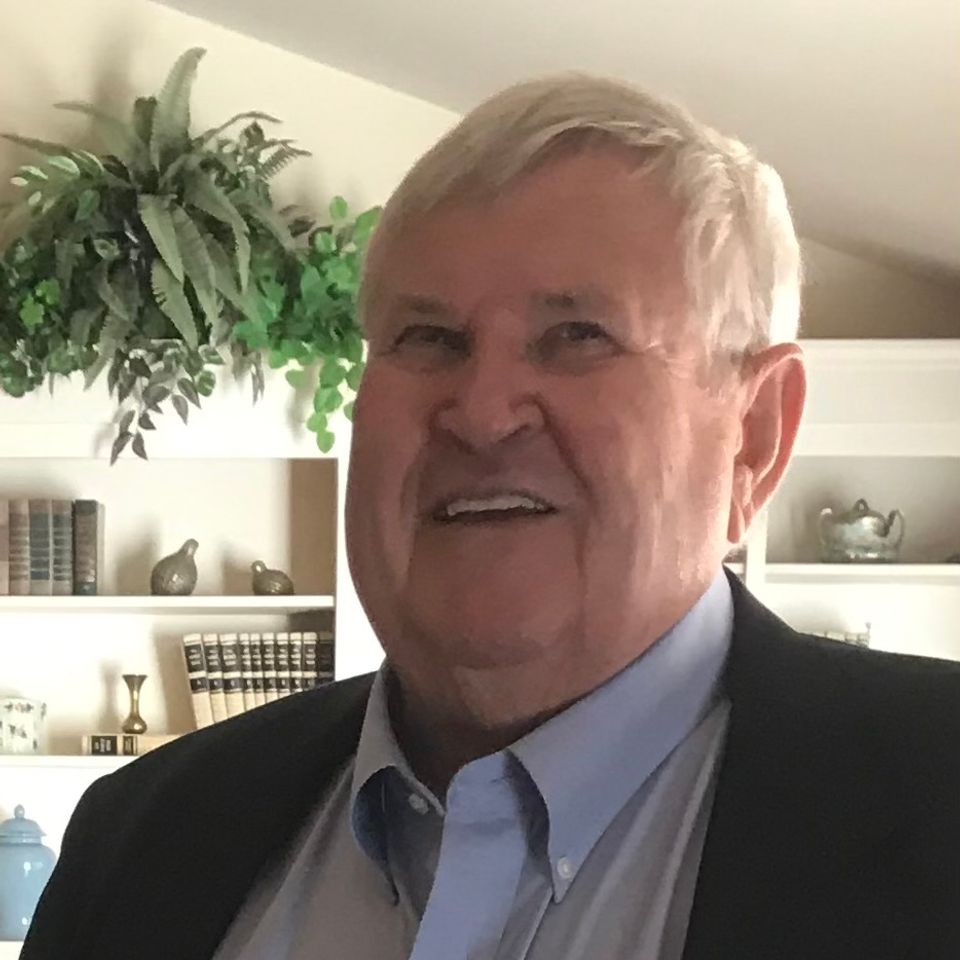 Esteemed Rotary member H. Herbert "Herb" Stanley Jr. passed away peacefully at home on Thursday, Feb. 9, 2023, after an extended fight with cancer.

Herb was born Sept. 27, 1938 in his parents' home, Robeson County, N.C. Upon graduating from Richmond Professional Institute in 1968, Herb began his accounting career in Kilmarnock, and spent over 50 years as an accountant and CPA serving the Northern Neck and Middle Peninsula with offices in Urbanna, Cobbs Creek, and Gloucester.

He was very active in the community. In addition to serving on the Gloucester Point Rotary (Paul Harris Fellow), he was also a member of the Urbanna Chamber of Commerce Board of Directors (Treasurer), Middlesex County Lions Club (President), a board member of the York Academy Board of Trustees (Treasurer), and coached several youth sports teams.

Herb loved to fish the Chesapeake Bay and its tributaries for flounder, spot, and croaker from his boat "My Dream," bird hunt with his pointers, "Chip" and "Sam," and take road trips to Parker's BBQ.

The Rotary will miss Herb's presence and his tireless commitment to the community, and we extend our condolence to Herb's wife of 61 years, Ann, and his family.

To read more about Herb and his life click here. 
Remembering Fellow Rotarian Ellis Hall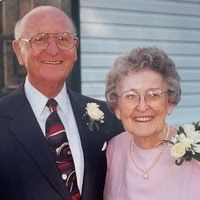 Ellis Hall, a long-time respected business owner and community advocate in Gloucester VA, passed away on September 20th at the age of 104. Ellis was a charter member of Gloucester Rotary Club and continued as a valued and dedicated member for 57 years. He was active in all Rotary projects well into his 90s and was a Paul Harris Fellow +4.
In 1963, he was an integral part of a group that organized polio vaccinations for 20,000+ children at churches on Sunday mornings. In that same year, the Club raised $25,000 for Rotary's PolioPlus. Ellis continued to support the global eradication of polio throughout his life.
Ellis also participated in the Club's annual rabies clinic held in conjunction with veterinarian and fellow Rotarian Gilbert Birdsall, and he was always involved in the Club's annual Pig Roast fundraiser, which just celebrated its 38th year. True to his nature, Ellis would help wherever needed,
from cooking all day to parking!
Ellis also volunteered at the local jail, providing Bible study for the inmates in conjunction with Southeastern Correction Ministries. When the inmates were released, he continued his ministry by finding transportation and jobs and helping them transition into independent and productive community members.
To this day Rotary still support his charities and celebrates his generous spirit. He was always giving back to the community, and Gloucester is a better place because WWII veteran Ellis Hall lived, worked, and volunteered here.